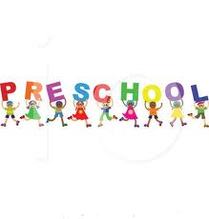 Hello and Welcome to H.A.L.L 's Playtime Learner's Preschool!

H.A.L.L. stands for Hampton Alliance for Lifelong Learning. Our preschool is play-based and includes all kinds of learning and activity centers! We would like to take you on an introductory tour of our learning environment and describe to you how a typical morning unfolds for your children here at Preschool... always keeping in mind that our schedule is flexible. The children arrive at Preschool and the parents/caregivers help them put their book bags on their lower hooks and place their indoor shoes on the floor under their hooks. Then the children take their mailbags and any "show and share" items they have into the classroom and put them in their cubbies.

Then the children go directly outside to play (weather permitting). After outdoor play the children put the outdoor toys away, line up and go back into the school, hang up their coats, take off their outdoor shoes, wash their hands, put their names on the board, and sign their names in a book. Now, depending on the interests and needs of the children, we will either take some times for indoor play, a planned activity or have Snack Time. When Snack Time arrives, we sing our Snack Time song and the children line up, wash their hands and go out to their hooks to get their lunch bags. Snack Time is a wonderful time for sharing and conversation! After Snack Time, the children pack up their lunch bags, take them out to their hooks and come back into the classroom to play. The classroom is divided into centres that offer many learning opportunities to your children. They may go directly to the Art Centre where they can choose to create something from a variety of open-ended art materials. They may also choose to paint at the easel. Then they may sit at the piano in the Music Centre, play a tune or dance to the music. Next, they may head over to Dramatic Play Centre where they might put on a puppet show, play dress up, look after babies, make dinners, go shopping, transform the space into a doctor's office and.... the list goes on! Then they may saunter over to the Construction, Car and Block Centre where they might build with wooden blocks or Mega blocks, connect train tracks, arrange farm animals, put together Potato Head families, play at the fire station house or work at the tool bench. Then there's always the opportunity to play at the Water/Sand Tables, or head over to the Science and Math Centre where they can make discoveries using magnifying glasses and magnets. Now they may need to take a quiet break at the Library Centre and snuggle up with a teddy bear and read a book or two. The children may also choose to sit quietly to work on a puzzle or play a game either alone or with some friends at the Puzzle and Game Centre. Another popular are is the Playdough Centre where the children can exercise their hand muscles by squeezing, rolling, and cutting playdough with scissors; they also make amazing playdough creations! We have also introduced a Writing Centre where children are invited to make books of their very own, of any kind, at any time. This Centre is equipped with pre-stapled papers, markers, pencils and pencil crayons and alphabet displays. After visiting many of these centres, the children are now ready to gather for Circle Time in the library, so we sing our transition song, "Ride, ride, ride the train, travel far and near. Now it's time to gather round, Circle Time is here!" We sing, read books, talk to the puppets and learn about treating others with kindness and respect. Every year at HALL playtime learners preschool is a new and different year because our schedule is flexible and our learning experiences reflect the current interests and needs of the children. We have explored many different WEBS of learning in past years, some of which include: Doctors, Farms, Feelings, Dinosaurs, Fish, Books, Pets, Firefighters, Teeth, Mysteries, Restaurants, Airplanes, Superheroes, Worms, School Buses, Music, Spirits, and Puppets, just to name a few!

Some events throughout the year are our Family Potluck Suppers, our Pyjama Days, Monthly Fire Drills, Silly Hat Day, Weekly Class Leader/Show and Share Days, and our Graduation, at which time we present each child with a Special Memory Book which includes and individualized photo diary with had - written captions for each month that he or she attended Preschool. In June each year, the children "shop" for food items in class that they then donate to the Hampton Food Basket. We obtain the money for the food by recycling juice boxes throughout the year.

HALL participates in the FUN FRIENDS program, the SCHOLASTIC BOOK program, which also includes reading books under the Classrooms Care program to provide books for children in need and the TALK WITH ME program, which offers each child an opportunity to meet with an Early Language Specialist to have a free hearing and speech assessment. Our teachers also participate in the Kindergarten Bridging Project where they share and compare mutual learning experiences with a local Kindergarten teacher.

We have a teaching team of two early childhood educators, Marlene Burdett and Sue MacDonald, who have ECE certification and who have also completed 30 hours of the Program of Professional Learning for the New Brunswick Early Learning and Childcare Curriculum Framework.

---